In March 2020, Oracle announced free access to online learning content and certifications to a broad array of Oracle Cloud certifications for about 2 months (details here). Literally tens of thousands of professionals took advantage of this excellent offer, causing Oracle to further extend the deadline of the offering.
This was a smart move by Oracle to garner interest in their cloud platform.
In this post, I describe what I did to pass the Oracle Cloud Infrastructure Architect Associate exam. This is the first of two Cloud Architect level certifications from Oracle, the next being the Architect Professional certification.
Keep in mind that I have strong opinions on those looking to become Cloud Architects (see my rants here). Regardless, having hands-on experience with Oracle Cloud, though not a necessity, will give you around 30% of the knowledge you need to pass the exam. 50% of the knowledge will come from the excellent online videos curated by Rohit Rahi from Oracle. The remaining 20% is where your professional experience will come in handy.
What is the Oracle Cloud Infrastructure (OCI) Architect Associate certification?
This certification tests your skills on topics that include: cloud computing concepts (HA, DR, security), regions, availability domains, terminology, services, networking, databases, load balancing, compartments, and so on, as it pertains to OCI.
Who is this certification designed for?
The Oracle Cloud Infrastructure Architect Associate exam is designed for individuals who possess strong foundational knowledge in architecting infrastructure using OCI services.
Those with strong data center, network engineering, and systems administration experience are ideal candidates for this certification.
What is the exam number?
1Z0-1072: Oracle Cloud Infrastructure 2019 Architect Associate certification.
Is hands-on experience needed to pass the exam?
No. But it will possibly be that factor that determines whether you pass or fail.
How do you pass the exam?
Below are 6 things I personally did to prepare for the exam.
1. Watch the free online training videos.
The videos are the most important aspect of your preparation. The speaker does an excellent job talking through concepts and walking through a lot of hands-on exercises.
Turn up the speed to 1.5x at least. For those who can keep up, you can even try 2x speeds. This will reduce the time to complete the videos from 9 hours to 6 or even 5 hours.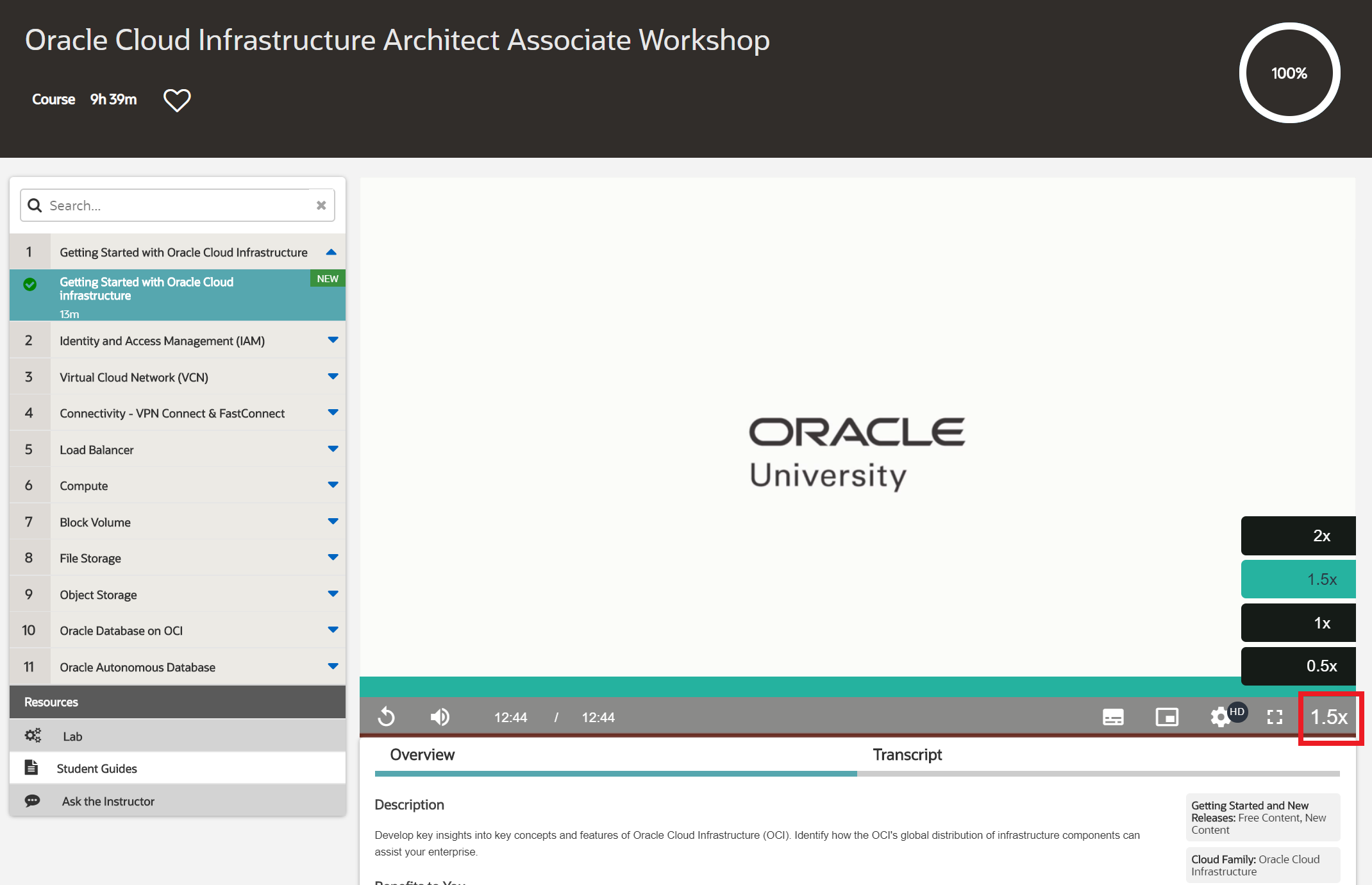 2. Take screenshots of key slides from the online videos.
Take screenshots of relevant information from the online videos. Some of the information is particularly useful and will come in handy later when reviewing.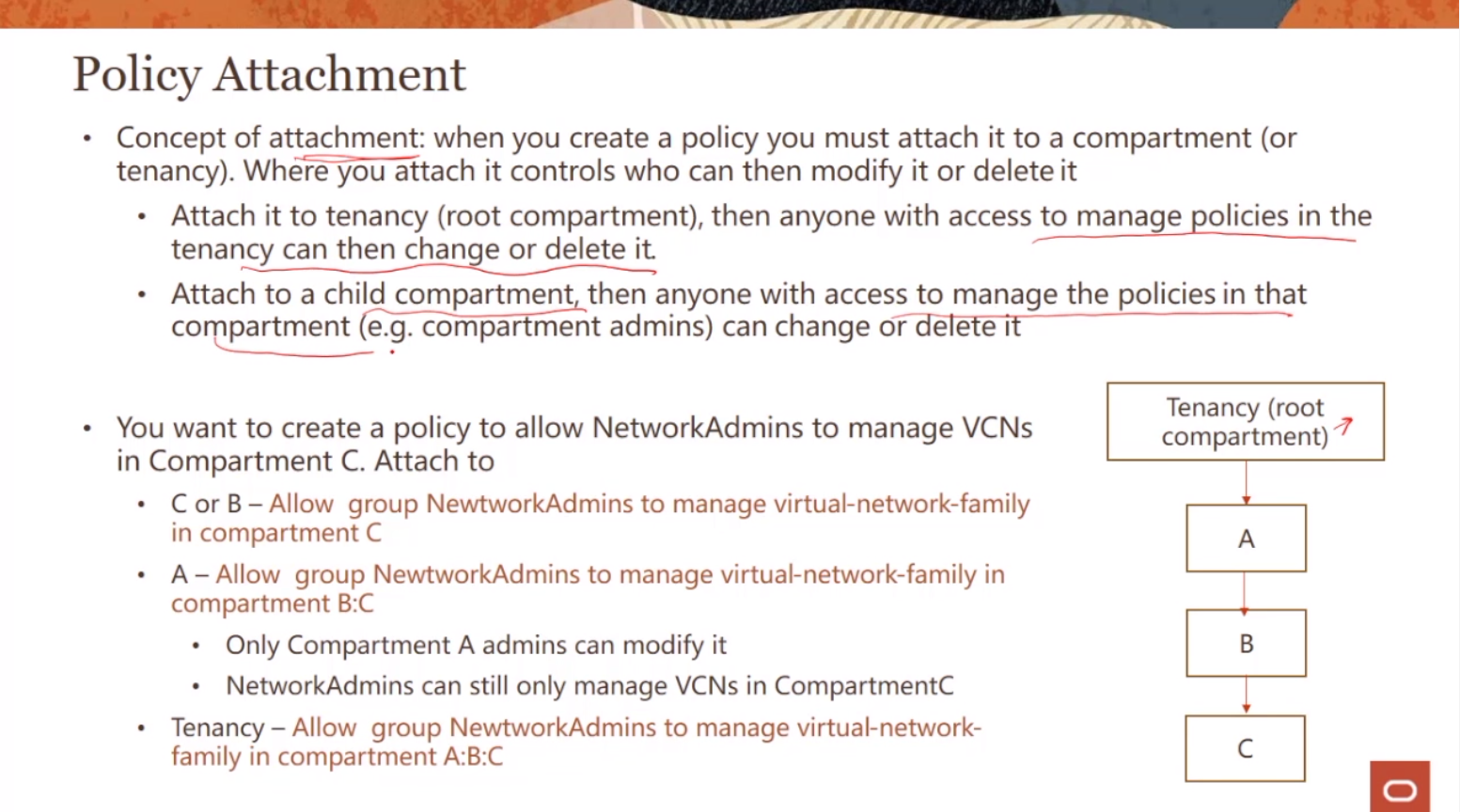 3. Copy the transcript of each video into a Microsoft Word document.
Each video is fortunately transcribed into text. Copy each transcription into a document, because this will come in handy when creating notes and studying later on.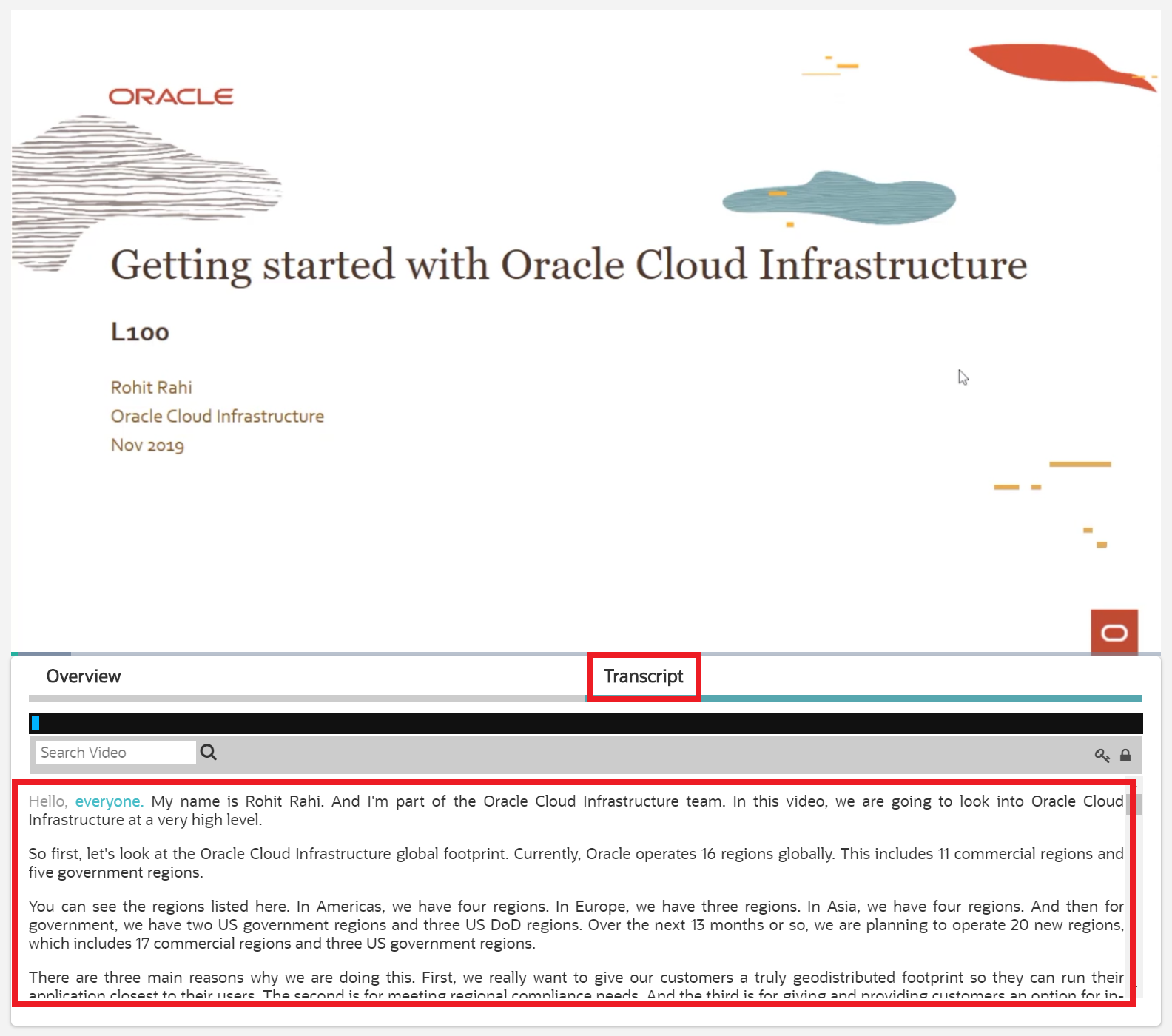 4. Review your notes and highlight key areas.
Now your Microsoft Word Document will likely exceed 150+ pages. As for my personal style, I ended up bolding portions of sentences that I wanted to review later. Red means something that I knew I would likely forget.
Then I started adding my own questions in green sprinkled throughout the document. When I was done, I would quickly scroll through the document, focus on the green questions, asking them to myself.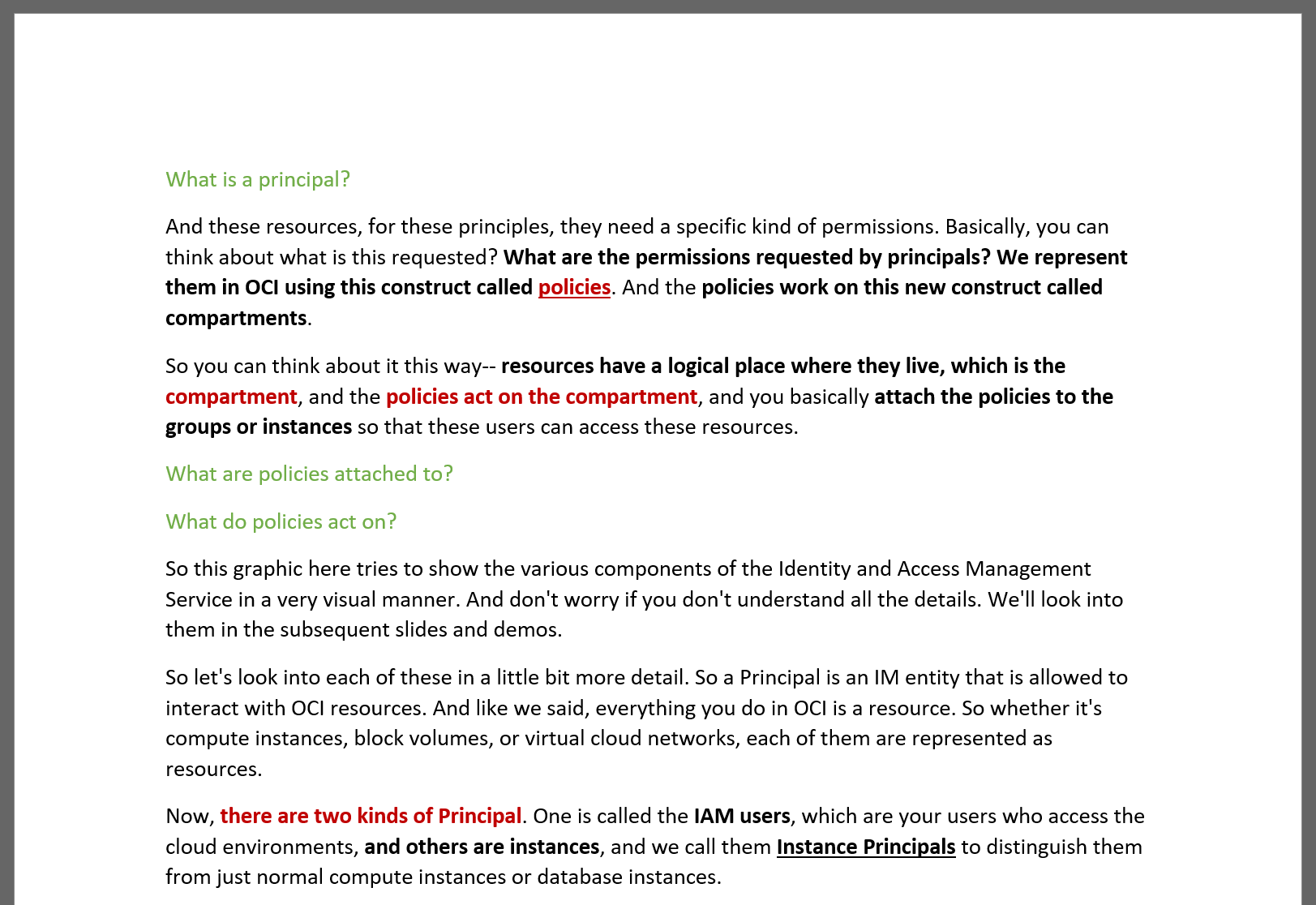 Obviously, this first round of highlighting the document will take a good amount of time, but you'll notice yourself skipping through a lot of paragraphs.
5. Search for the word "exam" in your document.
While presenting the online videos, the presenter admitted that what he was covering is included in the exam. Simply search for the word "exam" in the document.
6. Take the sample exam.
Taking the sample exam is exceptionally important as it is a true representation of the type of questions that will appear in the actual exam. I can't remember, but I'm somewhat certain that a few of the questions did actually appear in the exam.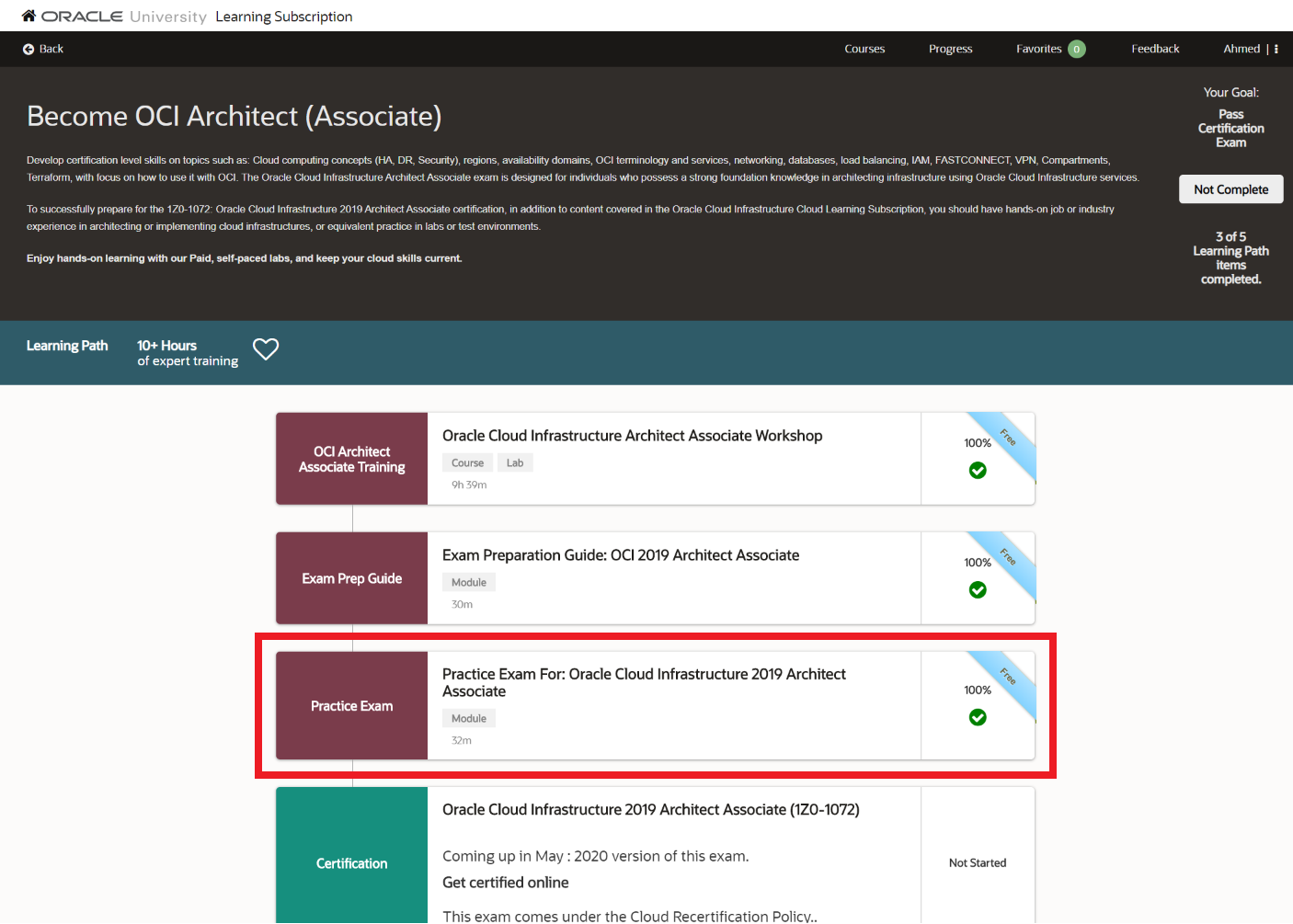 Final Thoughts
Preparation, and preferably hands-on experience, are requirements for taking any certification exam. Even for those with strong experience, certifications educate you in areas you rarely touch. A certification is also an excellent way to formalize your knowledge. Statistically speaking, professionals who are certified tend to make a little bit more than those who are not.
I personally did exceptionally well in this exam. In my opinion, this is attributed to my 6+ years of hands-on and professional experience with Oracle Cloud Infrastructure (as well other non-Oracle cloud providers). Furthermore, I've had a decent amount of system administration, network engineering, and data center experience in my past life which was invaluable in preparing me to achieve a Cloud Architect certification.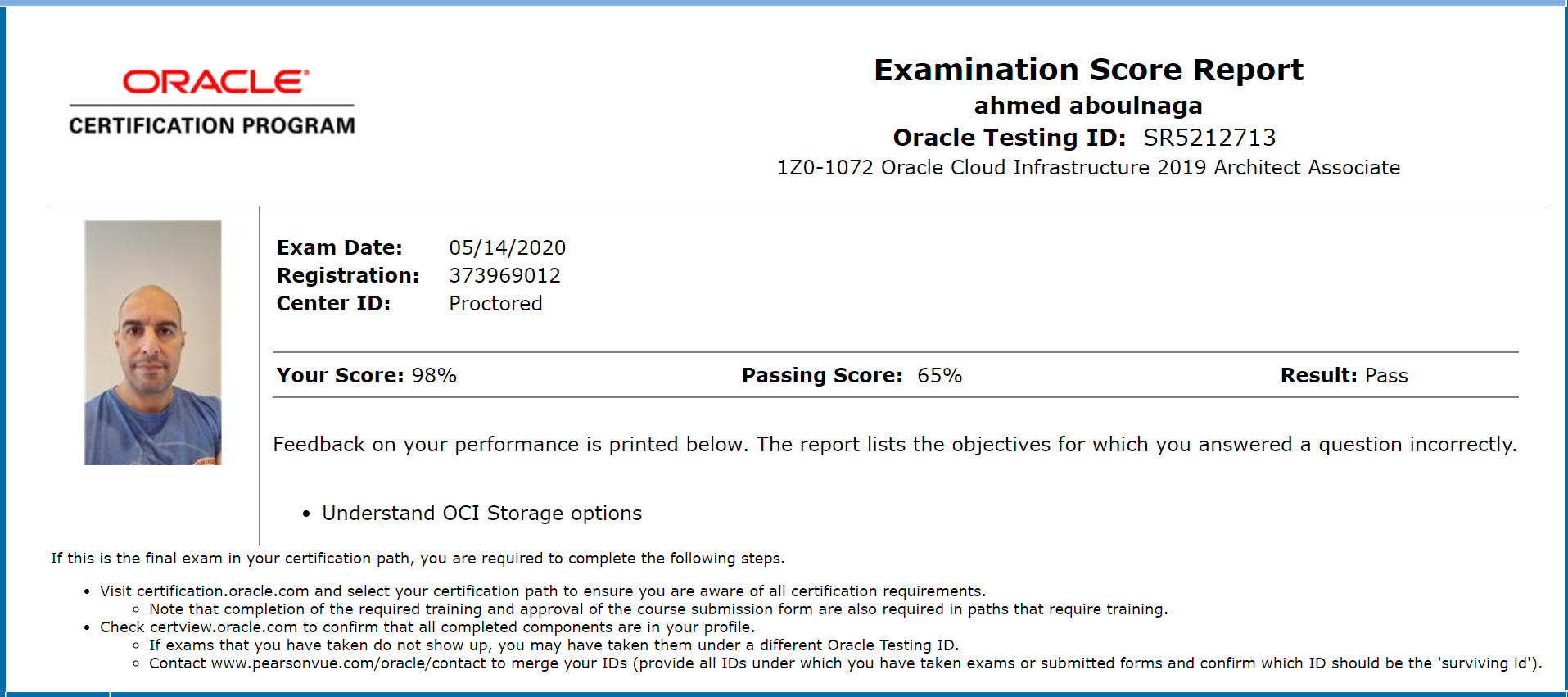 Regardless of your background, be it a developer, database administrator, or systems engineer, having strong cloud concepts and cloud architecture experience is a necessity in this day and age.
Good luck!