Recently I have started a new training class with Red Hat Connect and training for partners. What I especially love about Red Hat classes, you always get an environment to mess around. Nothing was different from any previous cases, except this time, my new lab was partially unavailable.
The browser behavior was quite odd.  I click on the link, glimpse the application page, and then I get a protocol error page.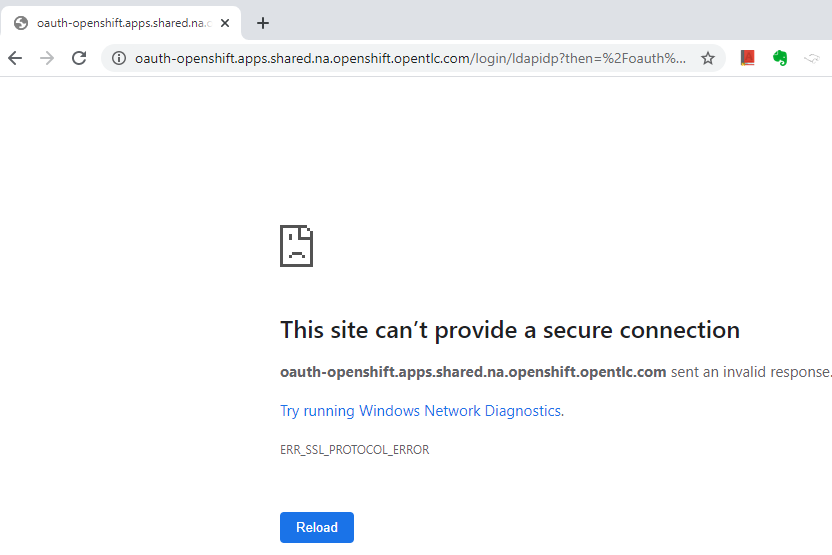 I tried all available browsers, on three different machines on two platforms, with no luck. I contacted Open TLC support, and they convinced me that applications are up and available, and they have no issues with access to my servers. That was extremely odd. It is definitely some corporate policies or antivirus configurations because all devices demonstrated the same behavior in my home network.
White a minute, in the home network!!! I turned off WiFi on my smartphone, and I get the login page instead of an error. The same happened when I switched my primary laptop to the mobile hotspot.
Now I was troubled; I 'm quite familiar with the standard Comcast Xfinity admin page, and nothing could cause such behavior. Well, there is always a space for a miracle. After a short investigation, I found that the new xFi  "offers" you the Advanced Security Service. Do you see an URL on the screenshot below?

That's right, it's not visible on your modem page, and it's pretty much all the configuration for this service. You can only turn it on or off: "Mommy knows the best."
Don't get me wrong: I don't urge you to turn it off entirely or start shopping for a new double-play package. What I want you to take away from this:
Don't blame application providers on the spot; your home network could be full of surprises.
Think twice before you decide to switch off this service permanently. Regarding the reports in my console, it's rather useful.
If you turn it off and then turn it back, there are about 10 minutes delay before it starts protection.